Swiss King
Saravana Krishnan
When a chess player wins back to back swiss league events, who wouldn't want to know the inside story? My curiousness provoked me to approach Saravana Krishnan and he was kind enough to spend some time and have an impromptu quick chat. Saravana's story deserves special attention because he is able to balance work and play effectively. He works at Karur Vysya bank and also manages to win rating tournaments convincingly. Find out what is working for him in this chat about chess and more! 
Niranjan: I have been observing your progress for quite some time now, especially the consistent victories in recent times. How many tournaments have you won recently?
Saravana : 4 tournaments (smiles) A rapid tournament in Karur, Rating events in Kottayam, Sivakasi and St.Joseph in Chennai.
(You can check the notes of his games here: http://chessbase.in/news/st-joseph/
and http://chessbase.in/news/saravana-wins-in-sivakasi/)
NN: Did you have that in a to-do list? To win these particular events convincingly? Oh, By the way.. you did win St.Joseph twice!
SK: Yes, three tournaments in a row – April, May and July. I wanted to win some tournaments to boost my rating points above all. Convincingly? I don't know! But, I definitely thought I can
NN: You are a full-time bank employee. Yet, you do well on the board on most of the occasions. What is working for you?
SK: Well, it is not just about my preparation before or during the event. It is about what I have done all these years.. The defeats that I have overcome, the lessons I learnt in MBA, the experience at my workplace and the support from my family and my friends. At the outset, everything helps in the thought process of decision making.
NN: What changes did you do in your games? What is the secret behind the back-to-back positive results?
SK: I made it a point to segregate each and every round as a separate challenge and told myself to take it- move by move, session by session, game by game and then as an overall tournament. Most importantly, I tell myself that the score or the tournament situation doesn't matter. Whether I am 4/4 or 5/5, it is irrelevant. What matters is – one on one between me and my opponent in that particular position and in that particular 1/1 encounter.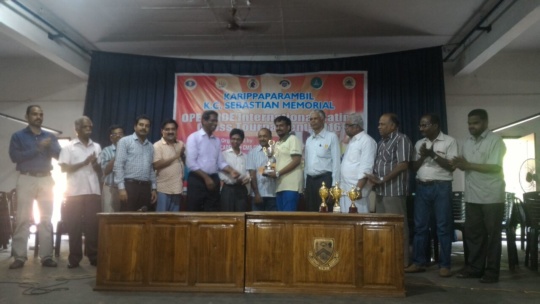 NN: Can you elaborate a little on your practice sessions. A lot of people would like to know because you manage both – job and chess.
SK:I don't get much time to prepare after office hours. But, during the tournament days my bank –KVB (Karur Vysya Bank) has been supporting me with on-duty and is encouraging my chess endeavours. I also try to prepare whenever i get time. At the least, I try solving.
NN: Have you been introduced to this concept of 'live in the moment' by some book? Did you learn the way through experience?
SK: By experience! This reminds me of my college days. Needless to say, we would have hardly completed  20 to 30% portion before the exams.In a situation like that, a lot of students would easily get demotivated and give up. But, in such a scenario – I say 'What best you can do from this moment is important' rather than fretting over could not do's and that's how it all started.
There have been innumerable moments where I would have planned chess sessions and would not have managed to practice. Again, I apply the same thought here – to get back to what is before me in the present. My father has influenced me a lot by his positivity since my childhood. I derived the positive thinking mindset from him.
NN: Thank you for that elaborate answer. I learnt from one of our mutual friends that you have a pre-game routine. You solve a lot of positions before the game. When did you cultivate this habit?
SK: That's one thing I always believe! Solving helps a lot. During the early days of my chess career, my father would set up a position in the hall with the side to move and result by the side. I would solve it and go back to what I was previously doing. Then he would set up another. Like this we went on to finish the encylopedia of middle games. This helped me win a lot of tournaments. I believe that this also helped me to cope with my breaks from chess. In a tight schedule, I started believing that I could play good chess without staying in constant touch and it is working.
Regarding the pre-game routine, I was inspired by the words of Ratnakaran . Sagar Shah had written an article where he mentioned that Ratnakaran believes that solving before the game helps in beating the idleness and you stay alert right from move one. I started following that advice immediately.
NN: Let's have a round of rapid fire. Not more than 10 seconds for a question.
Favorite Tactical theme
SK: Anything to do with the knights
NN: Best comeback moment
SK: I was feeling very down during June 2013 due to some reasons. During that period, I won Adyar times after a first round draw. Then KCM with 8.5/9. Then scored 5/5 after initial 3/6 in state open to quality for National B
NN: A film you have watched over and over again
SK: Chak De India
NN: A song you are fond of in recent times
SK: Mayanathi from Kabali
NN: Favorite Quote
SK: Many of life's failures are people who did not realise how close they were to success when they gave up – Thomas Alva Edison
NN: I expected a quote like that! (smiles) Excited to watch M.S.Dhoni?
SK: Yeah, it's on the list. Me and my wife are going to watch it!
NN : If there is someone you wish to thank, or say sorry or say anything – here is an opportunity at 8cross8! Go ahead and share whatever it is.
SK: Not sure about 'someone', but there are lots! I want to thank my friends and family for always being there for me. Staying happy is very important for good results. My parents and my wife are responsible for that, I owe it to them.
NN: Thank you very much for your time, it was a nice chat! All the best to you
SK: Thanks Niranjan, I really enjoyed a lot and it made me think about the journey so far.
The conversation with Saravana Krishnan reminded me of Dhoni's words. Rudi Webster interviewed Dhoni in 2012. Here is an excerpt from that interview. 
Rudi: What would be your advice to young players? 
Dhoni: * First and foremost, you must love and enjoy your sport. Otherwise, you will not learn to play the game as well as you ought to. 
* Second, not only must you enjoy your performance on the field, you must also derive pleasure from sharing your experiences with other players and creating an atmosphere that will help them to play better; and 
*.Third, keep things simple, stay in the moment and focus on the process and be patient and persistent. 
Did you realize what is working for both of them? 🙂 
I am not sure if this is a coincidence, but biopic on MSD has hit the cinema halls today
I'll be back with another article soon! Take charge
Trailer of MSD: